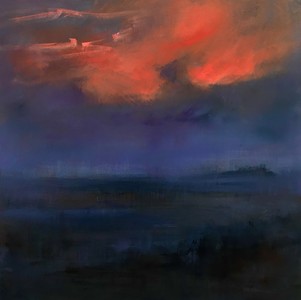 Compelling Quietude
(Oil on Canvas 2019)
This painting (recently acquired for a private collection) was on view in my solo exhibition titled
What Resonates
at Gallery Blue Door in Baltimore that ended August 3, 2019.
STATEMENT
Throughout my career as an artist I have been fascinated by what resonates from a place: what I feel while there, what I remember when I leave and what stays with me as time passes, and how to translate that through my art. Sometimes, it is the overwhelming sensations of how a place looks visually- the colors, textures, patterns, the time of day, the quality of light. However, often it is not how a place looks specifically but- that undefinable quality that makes a place stay with you or resonate.
What makes a place penetrate your soul, inhabit your mind, shape your spirit, change you?
BIO
Tracy Lambros (American) lives and works in Baltimore and from her studio on Hooper's Island, Maryland. She holds a MFA in Painting and a BFA in Photography from Maryland Institute College of Art (MICA). After receiving her BFA, she lived in Manhattan for nearly a decade (including a year on a houseboat on the Hudson River) where she worked in photography/advertising. She maintained a studio where she pursued her early creative passions for photography and abstract drawing and exhibited in galleries and alternative venues in NYC. Her works were included in
The World's Women On-line!
Electronic media wall created for presentation at the United Nations Fourth World Conference on Women in Beijing, China, and in an invitational exhibition at the Aichi Prefecture Museum in Japan.
Ms. Lambros also lived in California and her travels throughout that region, especially Big Sur and La Jolla, as well as time spent on the coasts of Maine, Maryland and Virginia inspired her to turn to painting and to return to Maryland for graduate school. Today, the natural beauty surrounding Hooper's Island—the Chesapeake Bay, Honga River and the Blackwater Refuge—are constant sources of inspiration. While she does not confine herself to one medium or genre her recent works are evocative of nature: land, sea, and sky.
Lambros' works have been exhibited nationally and internationally in solo, juried, and invitational shows and are widely collected. Her very successful recent solo exhibition of 42 oil paintings at Gallery Blue Door in Baltimore, MD ended on August 3, 2019. Her works were recently selected for national juried exhibitions:
Spectrum: DITTO
, Carriage Barn Arts Center (New Canaan, CT);
Art on Paper
at Circle Gallery (Annapolis, MD);
Navigation
at Chaney Gallery at Maryland Hall for the Arts (Annapolis, MD). Her 2017 oil painting
Eventide 2
(collection of David and Stacey Abeles) was selected for both the
2019 Cumberland Valley Artists Exhibition
and the
Art in Bloom Exhibition
at the Washington County Museum of Fine Arts (Hagerstown, MD) and her works were recently included in juried exhibitions at First Street Gallery (New York, NY), Strathmore Hall (Bethesda, MD), Annapolis Maritime Museum (Annapolis, MD) and the Annmarie Sculpture Garden and Art Center (Dowell, MD). She was recently honored with a Ribbon Cutting Ceremony for the installation of one of her
Tangier Island
paintings at The Cancer Institute at Saint Agnes Hospital in Baltimore and her recent painting
Marsh-Nocturne
was selected for the 2018 publication
50 Forever:
Celebrating the Creative at Circle Gallery since 1968.
Beyond making art she has curated exhibitions and done extensive art consulting for MICA as well as private and corporate clients. She also enjoys traveling, reading, bike riding, gardening, and advocating/ supporting causes that make the world a less violent and more equitable place to live.