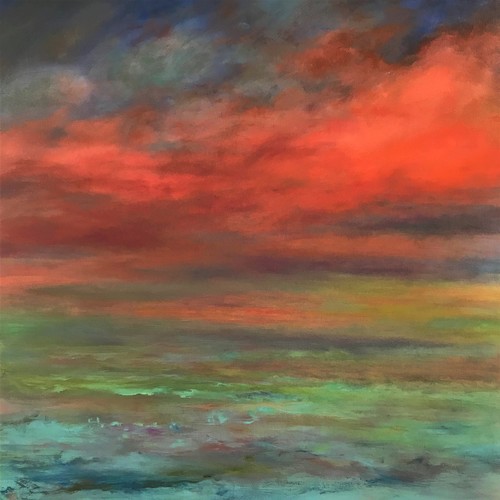 Sky Bliss will be featured in
Recent Paintings by Tracy Lambros: a Solo ExhibItion on view at
Monument Sotheby's Realty Ruxton Office Gallery
November 10, 2022 - January 4, 2023
Opening Reception November 10, 2022
7707 Bellona Avenue
Ruxton, Maryland

Statement
Painting has always been my way to not only interpret my world, but also to transcend it. When in my studio and deeply immersed in the process of painting the chaos of our times falls away. Recent works were inspired by the natural surroundings on Hoopers Island, the Blackwater Wildlife Refuge, and the Chesapeake Bay Region - places that provide tranquil sanctuaries throughout turbulent times.
Transcendence for me is a peaceful rebellion
.
BIO
Tracy Lambros (b. Baltimore) lives in Maryland and works from her studio on Hoopers Island. She earned an MFA and a BFA from Maryland Institute College of Art (MICA) and is known for her luminous oil paintings that evoke land, sea, and sky. Her paintings, photographs and drawings have been exhibited nationally and internationally and are widely collected. Recent paintings were featured in two solo exhibitions at Gallery Blue Door in Baltimore:
Transcend
in 2021 and
What Resonate
s in 2019. Current works were published in issues of
Circle Quarterly Art Review, Tidewater Times,
and
Vanity Fair U.K.
She has won numerous awards and many of the works included in this exhibition have been selected for prestigious juried exhibitions at venues such as: First Street Gallery in New York, Carriage Barn Art Center in Connecticut, MGM Grand Hotel at National Harbor, Washington County Museum of Fine Arts, Lowe House of Delegates, Circle Gallery, Curve Gallery, Academy Art Museum and Annapolis Maritime Museum. When not in her studio, she spends time traveling, seeing exhibitions, bike riding, reading, gardening and advocating for causes that make the world a less violent and more equitable place to live.